What's Good in a Floor?
You will likely want to put some sort of floor in your conversion van.
The generally desirable characteristics for a floor:
Strong and durable — able to handle the foot traffic and loads.
Light weight
Insulated to reduce undesired heat loss/gain
Replaceable wear layer
Looks nice
Does not squeak or make noises when walked on or when driving
Easy to install
Low cost
If you are going to carry heavy toys (eg motorcycles), then the "strong and durable" gets more important.
Floor Options
Commercial Floors and Floor Kits
If you are converting one of the common vans, there are some commercially available floor kits that come with precut floor pieces to fit your van.
Some examples:
I was not able to find much in the way of floor kits, and the ones I did find tend to be oriented to hauling heavy commercial loads and expensive.  If you know of better choices, please let me know..
Plywood over Rigid Insulation Board
This is the approach we used on our conversion.
It uses 1/4 inch plywood to fill the spaces between the metal floor ribs, followed by a one inch sheet of rigid polyisocyanurate insulation board, followed by a layer of 1/4 inch plywood, and topped off with a floating vinyl flooring.
The layers are glued together using Great Stuff polyurethane insulation, which is a good adhesive.
Some overview pictures…
There is a full detailed description of building this floor here…
On the plus side, this approach is light weight, relatively easy to build, and not expensive.
We were a bit concerned about how durable the 1/4 inch plywood over insulation board would be, but it has (so far) worked fine.  It has also been quiet.  I would not change anything if I were doing it again.
While we used sheet Vinyl for the top layer, you could use tiles or wood or carpet depending on your tastes or what kind of service the van is in.
If you are thinking that maybe I don't need insulation under the floor…
Plywood Floor Without Insulation
Some people just glue and screw a plywood floor to the van metal floor.
This is durable and simple, but it does leave you with very little thermal insulation for 20% or so of the van surface area.
Here is one example from the ProMaster Forum:
Of course, you want to be careful when screwing the floor down to not hit anything underneath.  You could stick to glue alone and probably do fine.
Plywood Floor on Spaced Up On Deep Ribs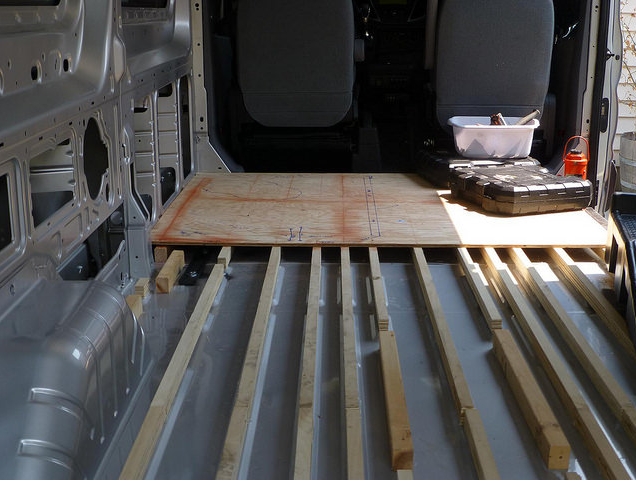 This is an interesting floor design from the Ford Transit Forum that uses a plywood floor spaced up a couple inches from the metal floor using wood ribs glued to the floor metal ribs.  Rigid sheet insulation is added between the wood ribs.
This approach should be durable and allows using thick insulation.
Raised Floors
Some conversions use a floor that is raised a few inches to allow long items to be stored between the van metal floor and the raised floor.  You can store items up to 10 ft long in the 136 wheelbase vans under such a floor.
Camper Van Builds with Floor Details
A few links to camper van conversions that have at least some detail on the floor approach they used.
Class B Forum, good floor template techniques…
ProMaster Forum, Surfer van…
ProMaster Forum, Camper van…
Comments, Questions, Suggestions