This section provides some information and ideas on beds for camper van conversions.  Lots of designs to choose from.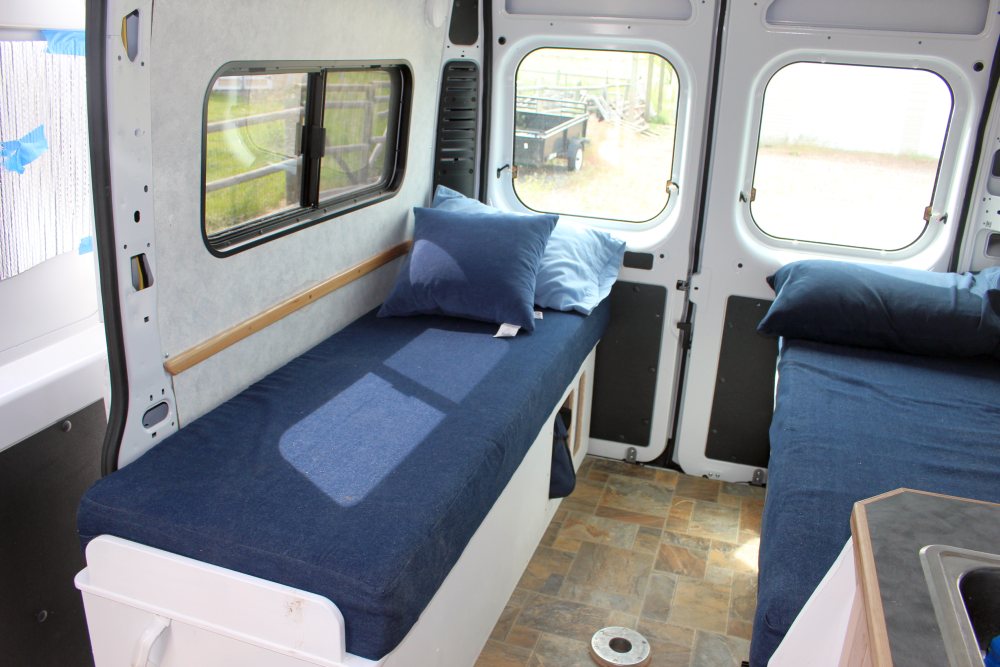 In addition to providing comfortable sleeping, the beds often provide a daytime seating and eating area.  And, the space under beds are are also often used to house water and electrical systems,  and to provide storage.
Sources for Bed Ideas
Some sites that have some good examples of successful bed layout:
The Sportsmobile has some good bed ideas…
Pinterest is a good source of ideas for camper van beds.  Search for something like "van beds".
DoItYourselfRV has some bunk ideas — just use the site search for "beds" or "bunks".
Looking over the Build Threads on the van forums for ProMaster, Sprinter, Transit, etc.
Some Actual Examples
Beds for Our Conversion
We used a simple set of beds in the aft portion of the van.  One bed along each side with an aisle between.  The aisle provides an eating area with the beds used as seats.
The area under the bed platforms provides the bulk of our storage, and provides a place for the fresh water tank, electrical system and propane tank. The bed platforms have hinged tops to access the storage, but we found that it is also very nice to have some openings in the vertical side of the bed platform for the things that you use a lot.
Our bed platform is built from Medium Density Overlay plywood (a premium plywood used highway signs) which is strong, stable, and takes paint well.  It is  through bolted to the floor to keep the heavy items inside from becoming missiles in a crash.
LOTS more detail on our bed build …
We also looked into a platform across the whole back of the van in which you sleep side to side.  This is a nice arrangement and provides for a LOT of storage under the platform.  Some of the vans are better than others for providing enough width to sleep in, so be sure to check the width.  Space wise, this is a more efficient arrangement than for and aft oriented beds with an aisle between — you might gain a good foot of length.  One thing to consider in this is that if you have to get up in the middle of the night, you might end up crawling over your partner.
Aft Bed Build
This is a nice  aft bed build from the ProMaster forum…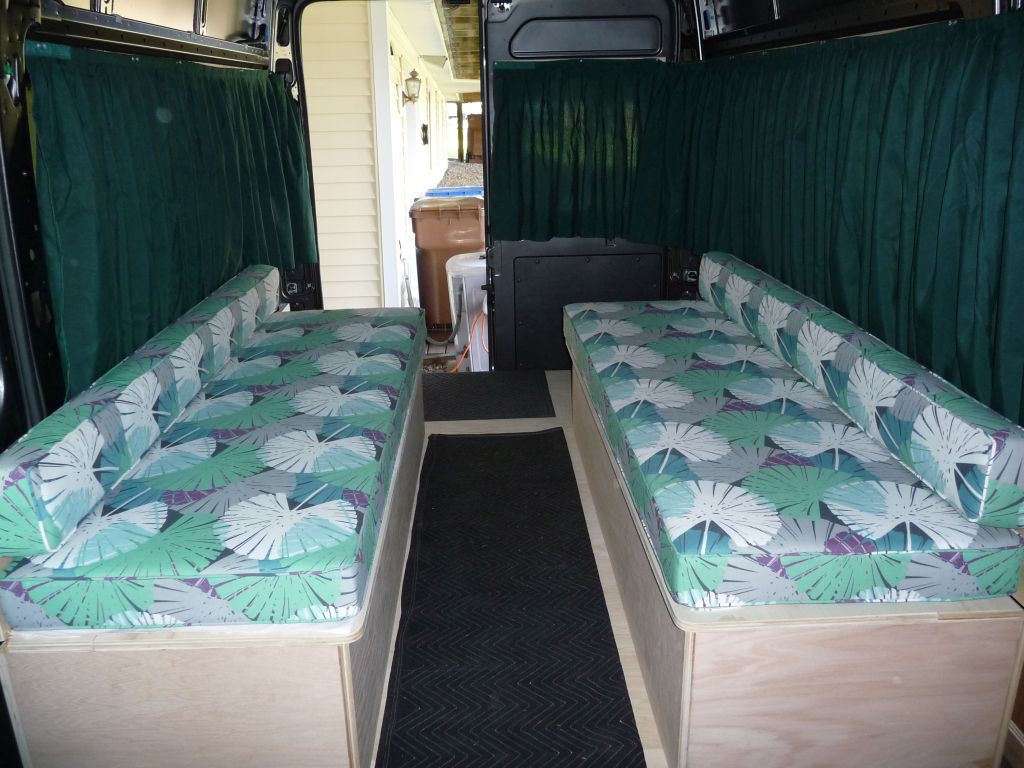 Folding Beds
Having owned an RV from a major RV maker with a really bad folding bed, I'm skeptical of folding bed designs.  I would make sure you can try any kind of folding bed before you buy it.
Mattresses
For our mattress, we had the local futon shop cut a double mattress in half for us, and then had a local seamstress make covers.  This has proved to be very comfortable — they are really just as comfortable as our home mattresses. The mattress we selected had memory foam over regular foam for a total thickness of just over 5 inches.
There are places that make custom mattresses for RV's.  Like, Mattress Insider, RV-Roadtrips,  and many more.  Most of these sell standard RV and truck size mattresses (there are quite a few sizes), but some will make custom sizes. You local mattress or futon shop may also have RV size mattresses or be willing to do custom sizes.
Lots of places sell foam in various densities and thicknesses, and will cut it to the size you want.  This makes a nice simple and pretty comfortable setup.
We just use sleeping bags at night, and roll them up during the day to make the mattress available for seating.
We had thought we might want some cushions to go against the van wall to provide a seat back, but find that just having a few loose pillow/cushions around works fine.
Bunks for Kids
There are some space saving ideas for compact bunks for kids…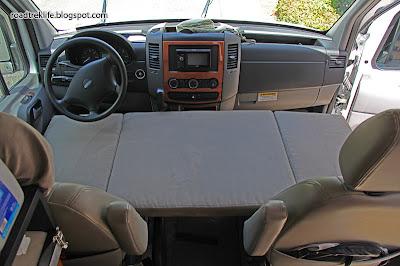 Some vans may have enough space in the area over the cab to work as kid bunks.
Bunk beds above a regular bed work — these can be retractable.
Hammock arrangements.
Gary
August 29, 2015
Questions, Comments, Suggestions, Ideas?