This section has ideas for different kinds of camper van galleys from simple to fancy, information on designing, building and installing galleys, and a rundown on galley equipment like stoves, fridges, sinks,…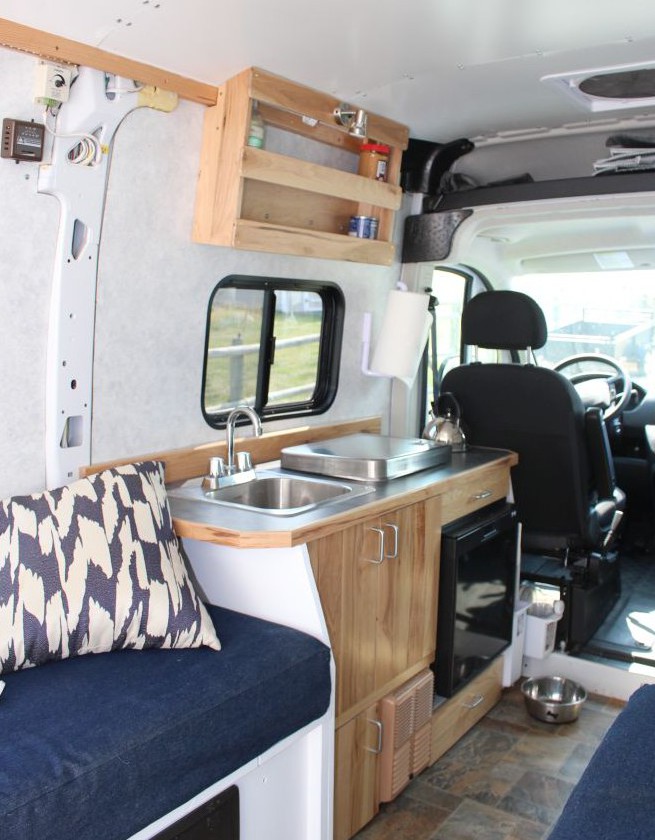 Galley Cabinet
You will probably want some form of cabinet to hold the stove, fridge, sink etc. and to provide storage for food and utensils.  Some options…
Our Galley Cabinet
These pictures show the cabinet we made for the galley stuff…
We built the frame of the cabinet with Medium Density Overlay plywood.  This is a premium plywood water impervious face sheets — its is very stable, takes paint well, and is strong.  The doors and front are made from Hickory flooring that is planned down to half an inch and then edge glued. The counter top is Wilson Art (a Formica like material) with more the Hickory used to trip the edges.
The 2nd picture is basically a mockup to insure that everything fits in the cabinet and that the boss is OK with the layout.    The last picture shows a 2nd cabinet that was added over the galley area window to provide some additional storage.
For LOTS more detail on our galley cabinet… 
A Simple Galley Cabinet that Holds the Full Water System
Some conversions place the fresh water tank right in the galley cabinet — this saves running plumbing over to a separate fresh water tank.  The water can be pumped from the jerry can like water container to the sink using either a hand pump and faucet combination made for this purpose, or a small electric pump that fits inside the water container.
Here is an example of this simple system from Steve Vandweller's blog: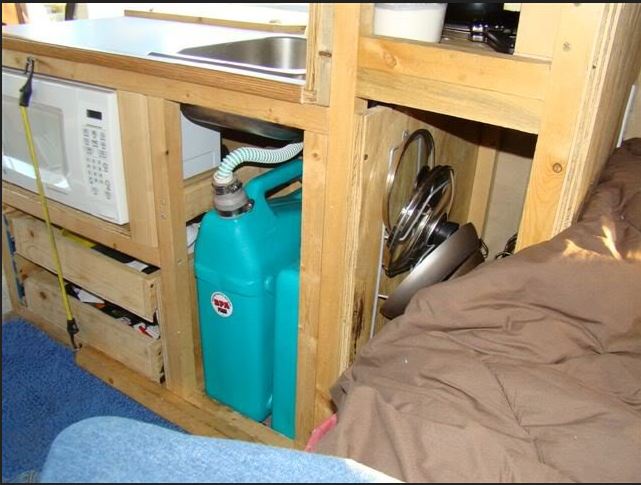 Cooking Stove
Some of the choices you have for a camper van conversion cooking stove…
Simple Camp Stoves:
These are basically the kind of stove you would use for tent camping.  They work out fine for simple camper van conversions.
The nice features:
Can easily be used inside or outside the van.
They use replaceable fuel canisters – no fuel line plumbing.
They cook just as well as fancy cooktops costing 10X as much.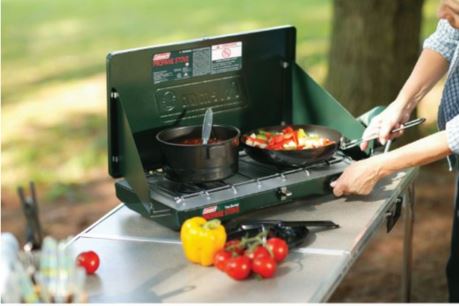 My family used one of these two burner Coleman stoves back in the 50's!  Back then the were powered by white gas.  You can still get the white gasoline models, but most of the new ones use propane canisters.  About $50.
There are lots of brands and varieties of one, two, and three burner stoves out there to choose from.
If you use it inside the van, seems like it would be important to have a good surface to use it on, and a secure way to anchor it down.
Butane Stoves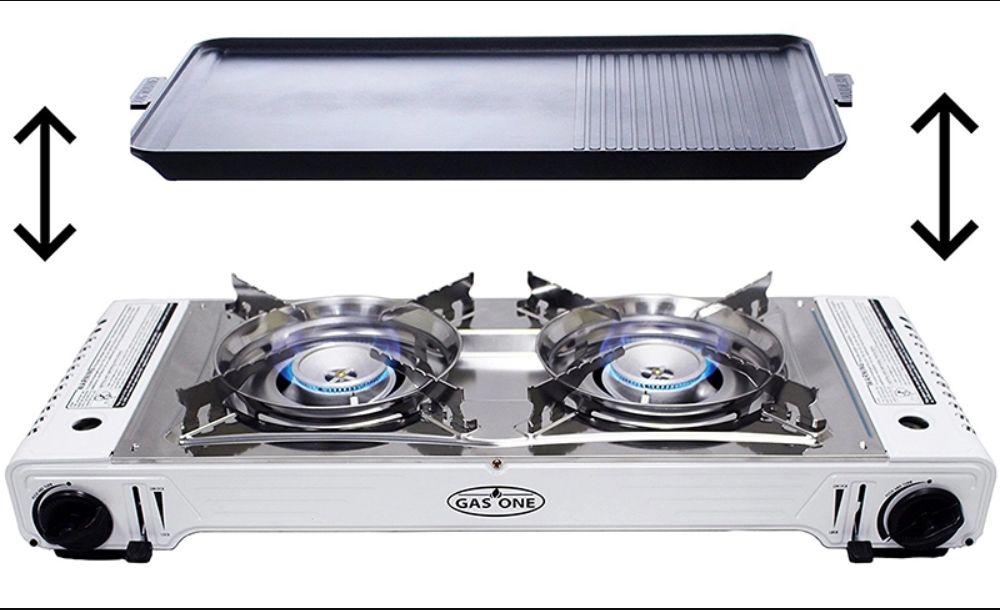 Butane stoves use cartridges of liquefied Butane gas.  These stoves are typically portable and are available as single burner and two burner — they can be used both inside and outside the RV.
The cartridges are a bit smaller and more convenient than the 1 lb propane canisters.  The flame is said to be not as hot as propane, but they do cook well.  They do not work well at temperatures below 40F as its too cold for the butane to vaporize well.
Here is a page contrasting Propane and Butane stoves…
Diesel Stoves
These stove can be plumbed into the vehicles regular fuel tank, so they eliminate the need for carrying a separate fuel for cooking if you have a diesel fueled vehicle.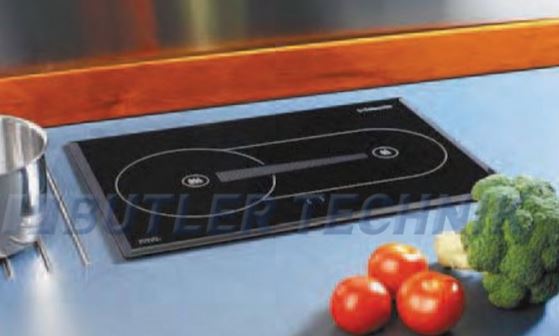 The Webasto diesel cooker has a flat ceramic top with the diesel flame underneath — combustion products are vented outside.
On the negative side, the price of the units is high (about $1500), and the installation more involved.
I guess this kind of stove could also be used to safely warm up the van on a cold morning as the combustion products are all vented outside.  The specs on the Webasco X100 indicate it has a heat output of up to 1.9 KW (about 6400 BTU/hr) — probably enough to warm up a well insulated van fairly quickly.
Propane Stoves
These stoves use a larger propane tank that typically also supplies the furnace and hot water heater in the camper van or RV.  The propane is typically plumbed to the stove and other gas appliances using copper pipe.
This is the Atwood model from our RV conversion.
This stove has worked fine for us.  The cover is nice in that it allows you to use the stove area as extra counter top when the burners are not in use, and it probably makes cooking a little safer.  On the down side, burners are manual light and the cover rattles a little on the road (we put a towel under it to stop rattles).  About $106.
Fancier European models like Dometic (SMEV) are also popular.
They also sell a combination sink and stove which can make for a more compact galley.
Most have glass covers — when down they make for an almost flat counter top space.
Available in two and three burner models.
$300 and up depending on model.
In the traditional RV world, there are also full drop in propane stoves that come with ovens.
Induction Stoves:
As a newer trend, some conversions are using electric induction stoves.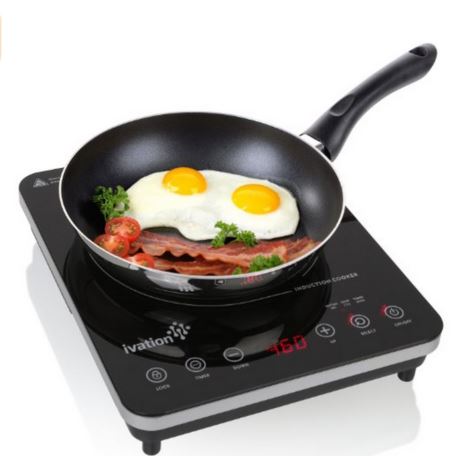 On the plus side, they are compact, safer in that surface temperature is low, and not expensive.  They could also be used outside the van with a good extension cord.
On the not so positive side, they are a significant load on the battery pack (see below), and will likely require larger batteries and higher capacity charging equipment to be included.  They also require cooking ware that works with induction heaters.
There are lots of one and two burner, 1800 watt induction heaters available with prices in the $100ish area.
Many of the induction cooktops use about 1800 watts when cooking.  If you have (say) the cooktop on for a hour a day, then you will use about (1800 watts/0.9 inverter efic) = 2000 watt-hours from the battery, or about 160 amp-hrs — so, this will likely require a larger than usual battery pack.  You will also need an inverter that is capable of handling the 1800 watt load.
There are, of course, larger induction cooktops with more burners, but these also require more power and unless you are willing to put in a very larg battery bank, are not practical for a camper van conversion.
Microwaves:
A small microwave is included in some camper van conversions.
While full size microwaves take up quite a bit of space and use quite a bit of power, there are more compact microwaves rated at 700 to 800 watts — these probably make more sense for most camper van conversions.
One thing to keep in mind is that microwaves are rated on output power, so an 800 watt microwave actually uses something like 1000 watts, and when you consider the inverter efficiency, its more like 1100 watts coming from the battery.  If you use the small microwave for half an hour a day, that's about 600 watt-hours, or about 50 amp-hrs from the battery — this is manageable, but you need to include it in your battery pack design.
Refridgerators
Ice Boxes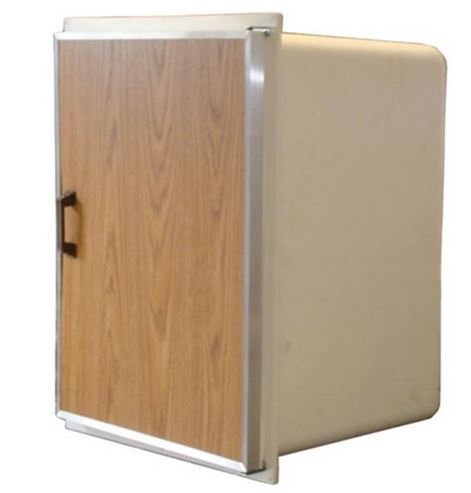 Ice boxes are fine as long as you don't mind replenishing the ice once in a while.  The better ice boxes and chests can get several days from a load of ice.
They can be of the chest type with a top lid opening, or can look like a conventional built in RV fridge — like this one…  which drains via tube through the floor as the ice melts.
There are some very bomber ice chest models made now by Pelican, Yeti  and others.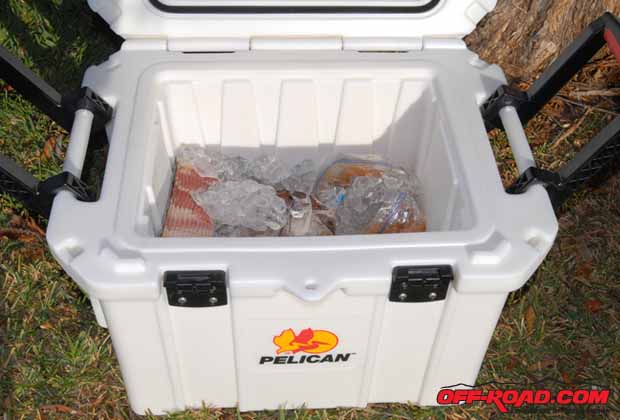 They are a lot cheaper than an efficient RV electric fridge, and they would also allow you to down size your house batteries saving money and space.
Three to five days is what people appear to get out of a block of ice in a good ice chest.
Seems like it would also be possible to make a good ice chest with very good insulation and do even better?
Propane 3 Way Fridges
This is a style of fridge that has been used in RV's for many years.  They work on an absorption refrigeration cycle using only a gas flame (or electric heater) as the source of energy.  They can run on propane or on electricity.
While they are simple, they have some drawbacks:  1) they are not very efficient, 2) they have to be nearly level to work,  3) they require two fairly large holes in the side of the van for the intake and outlet vents, and 4) they are slow to do the initial cool down.  The slow cool down time coupled with their reluctance to run unless level can make it hard to tell if they are cooling at all.
The inefficiency pretty much precludes running them on electricity unless you are hooked up to shore power.  They use roughly a pound of propane per day, or about a gallon every four or five days.  On electricity, this would be about 6 KWH or 500 amp-hrs a day — too much to run off a battery unless you have a huge battery system.
We had one of these fridges on our last RV, and after living with it for some time, one of my goals on this conversion was find a better solution.
Electric Compressor Fridges
Electric compressor fridges are like conventional household fridges that use a compressor based refrigeration unit.  The ones used in van conversions are typically smaller, but work the same way.
In our conversion, we used a Norcold NB751 three cubic foot model that uses the Danfoss refrigeration unit, which is known for it good efficiency.  I tested the actual energy used by our fridge over a couple days as reported here…  Basically, under typical conditions it uses 570 watt-hrs or 42 amp-hrs a day.  This is by a good margin the largest battery load in our conversion, using about 25% of the total battery capacity in a day.  There are other commercial fridges that use the efficient Danfoss compressor (eg Nova Kool, ARB).  Fridges that use the efficient Danfoss (or an equivalent) are probably worth looking for even though they are more expensive (our fridge cost about $650).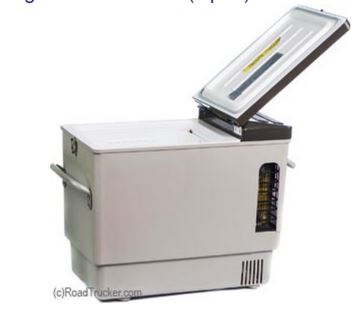 Another brand known for efficiency is Engel with its simple swing compressor…  They now make both chest type and built in models.  They have been made for many years and have a good reputation for efficiency, durability and quiet operation.  Some details on some Engel models …
These units can be built into a galley cabinet so that they pull out to allow the lid to be opened when you want something.  Or, I suppose they could be placed for use as a seat.
The Best Refrigerator Central site provides a pretty detailed comparison between the models of portable refrigerators that use a compressor based cooling unit.  But, their energy use comparisons don't make a lot of sense.
If you want a large fridge, some of the brands intended for off grid solar home use might be a good choice.  SunFrost and SunDanzer are examples — make sure you are sitting down before you read the price.
You might be tempted to use a "Dorm" style compact fridge, but they can be very inefficient.  This article from Consumer Reports tests a Magic Chef 4.4 cf model that uses 1900 watt-hrs (158 amp-hrs) per day — this would have drained our set of two golf cart batteries house battery in a day.  They can actually be less efficient than full sized home fridges because of the way the condenser coils are built into the fridge wall.  This Frigidaire compact also tested by Consumer Reports did much better at about 630 watt-hrs per day — but got poor user reviews.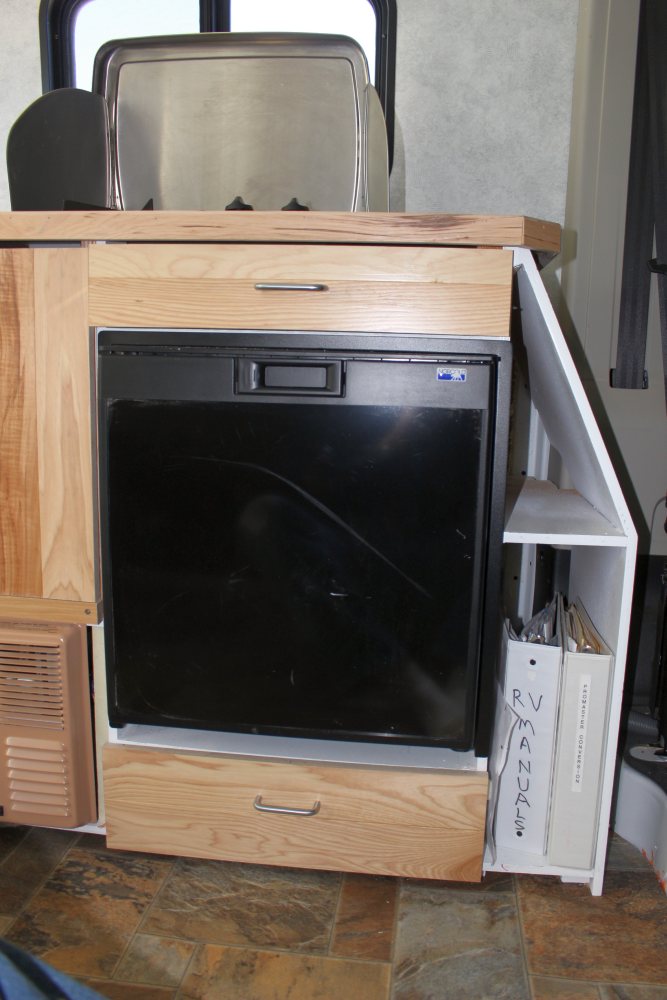 Galley Sink
Most conversions include some form of sink in the galley for food prep and for washing dishes.
A lot of conversions use a bar sink size unit to save some space.
This is the unit we used from Houzer.  It is sold as both an RV sink and a bar sink.
The faucet is a standard plumbing item.
Cost was about $60.
The drain plumbing on our sink is standard household sink drain plumbing with a regular trap.  The drain water from the sink in our case goes to a grey water tank mounted under the van.  But, its also possible to have the grey water run directly into a container mounted under the sink or to a container sitting just outside the van on the ground with a drain hose going through the floor.
One simple approach is to use this kind of folding camping sink.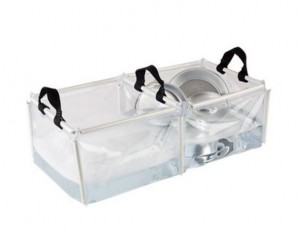 About $20.
For LOTS of detail on the galley we built for our ProMaster conversion…
Gary
August 30, 2015
Comments, Questions, Suggestions, Ideas!