We bought a relatively small and efficient RAM ProMaster bare cargo van (a US version of the popular European Fiat Ducato) and we did a simple but fully functional conversion that includes: paneling and flooring, insulation, a full electrical system with solar charging, galley with stove, fridge and sink, fresh and grey water systems, a toilet and other odds and end.
We have documented our build in a LOT of detail.  See the Table of Contents just below.  In each section I've tried to include 1) how we arrived at the design, 2) the details on the build or install, 3) and what the cost, weight, and labor were.
In a nutshell we wanted a camper that drives and parks like a car, is comfortable to be in, drives well on back roads, has all the essentials, gets good gas mileage with low CO2 emissions, and is completely self-sufficient.
[no_toc]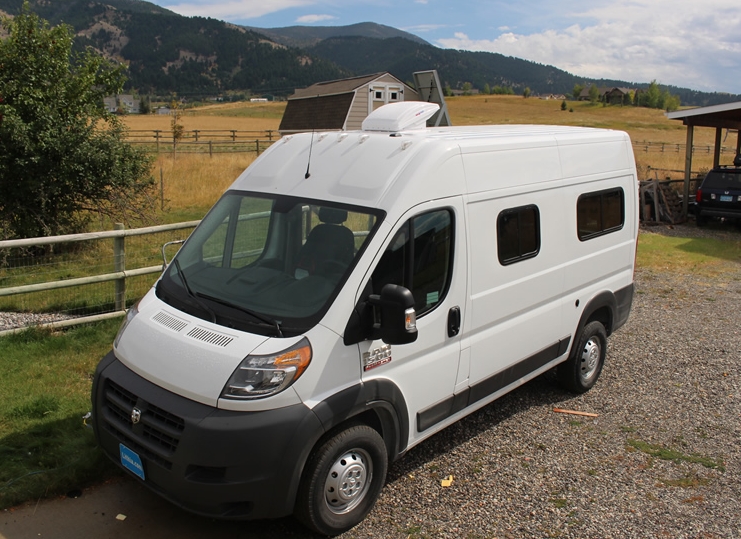 Comments, questions and suggestions and ideas are most welcome — there are comment sections on every page.
Table of Contents
Planing and Design
The Build
How Well Did it Work Out?
Cost, Labor Weight?
Lifetime Fuel and Emissions
Odds and Ends
Objectives for the Conversion
We have enjoyed RVing over the years, but lost our last RV in a highway crunch.
One thing we did not enjoy about RVing was the 10 mpg gas bills and the 2 lbs per mile of CO2 emissions. So, this project is about getting back into RVing with a smaller footprint.
These are our main objectives for the conversion.
We wanted the fuel efficiency to be good (20+ mpg).
We want it to drive and park as much like a regular car as possible.
Comfortable beds for two without too much hassle to convert to seating.
We want to be able to operate independent of electrical hookups, and preferably on solar power.
We want the interior to feel open and pleasant to be in.
We want it to be able to handle rough back roads.
To try to achieve these objectives we ended up picking the RAM ProMaster cargo van, which has an efficient, lighter weight, front wheel drive layout, and relatively efficient power plant. Within the ProMaster line, we picked the shortest version that would give us just enough space for what we needed. And, after estimating what the van would weigh after the simple conversion, we picked the lowest gross weight version of the ProMaster to get the lower final drive ratio that it comes with. We kept a strict eye on adding weight and ended up well below the allowed gross weight.
Our last RV (a Coachman class B Ford van conversion) suffered a lot from the try to cram every kind of RV feature known to mankind into a tiny envelope problem. We ended up tearing out a lot of the interior and revamping it into a simpler form that put a lot of emphasis on a good bed, descent storage, and minimal cooking facilities. This made the RV a lot more useful to us — it was more open to be in, and more comfortable to live and sleep in. This was the starting point for this new RV conversion of the ProMaster — keep it simple and open and practical.
Base Vehicle
While we ended up picking the ProMaster van as the base vehicle for our conversion, there are other similar vans that are used (a much wider choice just in the last couple years).  These include the Mercedes Sprinter, Ford Transit, and the Nissan NV.  These are all similar in that they offer full standing height versions with enough room for all the essentials.
Lots of back and forth on which of the above is the best choice for a base van.  A good place to get first hand information from the owners are the online forums:
I've found the information and discussions on these forums to be very helpful.
There are some commercial RV's available or coming out on the ProMaster, Sprinter, and Transit chassis. These may suit some well, and are certainly worth taking a look at, but for us they are too big, too fancy, have more "stuff" in them than we want, don't get the gas mileage we want, and are too expensive. I think that people in Europe have more choices and might well find a commercially made Ducato or Sprinter based RV that fits well. A video that shows some of these…
There are also other more compact vans, vehicles and trailers that can be used as a base vehicle and will do even better on fuel economy.  I plan to try and cover some of these the site develops — if you have a favorite candidate, please let me know.
Questions? Comments?
Comments, questions and suggestions are most welcome — just keep them civil and no spam.
Older Comments — this site had its start as a few pages on my solar website, and that site used the Disqus comment system.  This site is done under the WordPress umbrella and they have their own comment system which I've decided to use.  This leaves the problem of what to do with the accumulated comments on the old site — I don't want to drop them as there were many good comments and questions.  So, what I've done for now is to copy all the old comments to a page here.  You can read them (well worth doing!) but not add new comments.  If you have a question or comment that stems from the old comments, just enter it in the new comment section below.
Gary
September 11, 2015