Most camper van owners will want some type of toilet in the van.
Several toilet choices are covered, including the composting toilet, porta potty, cassette toilet, bucket toilet, and the traditional RV toilet and black water tank.
There is even a DIY composting toilet you can make yourself.
Our Composting Toilet
For our recent ProMaster van conversion, we decided to try something new (at least to  us) – a composting toilet.  And, a homemade one at that.
The composting toilet has a lot of advantages for a camper van:
Easy to live with and maintain.
Odorless.
Simple venting.
No plumbing or tanks or dumping black water tanks.
No water use for flushing (so, fresh the van fresh water tank can be smaller)
High capacity in small space.
No problems in freezing weather.
Environmentally friendly.
The one we built for our van has a urine separator that channels the urine into a separate container (a bottle) – separating the urine out makes the poo composting more efficient and trouble free.
Here are a few pictures:
The poo container is just a 5 gallon plastic bucket into which we line with a Costco Kitchen Bag, then put peat moss and sawdust as needed.  There is a urine separation funnel to direct the urine into a pee bottle.  There is a very small vent fan that continuously pulls van air into the toilet compartment, past the poo bucket and exhausts the air through an exit vent in the floor.  All of the openings are screened to prevent insects from entering, and the lid fits tightly enough to also keep insects out.  The lid is padded on top and acts as a spare seat – it actually gets a lot of use as a seat.  We use a Costco kitchen bag to line the bucket, which makes emptying quick and easy.  For our use, emptying is every two to three weeks.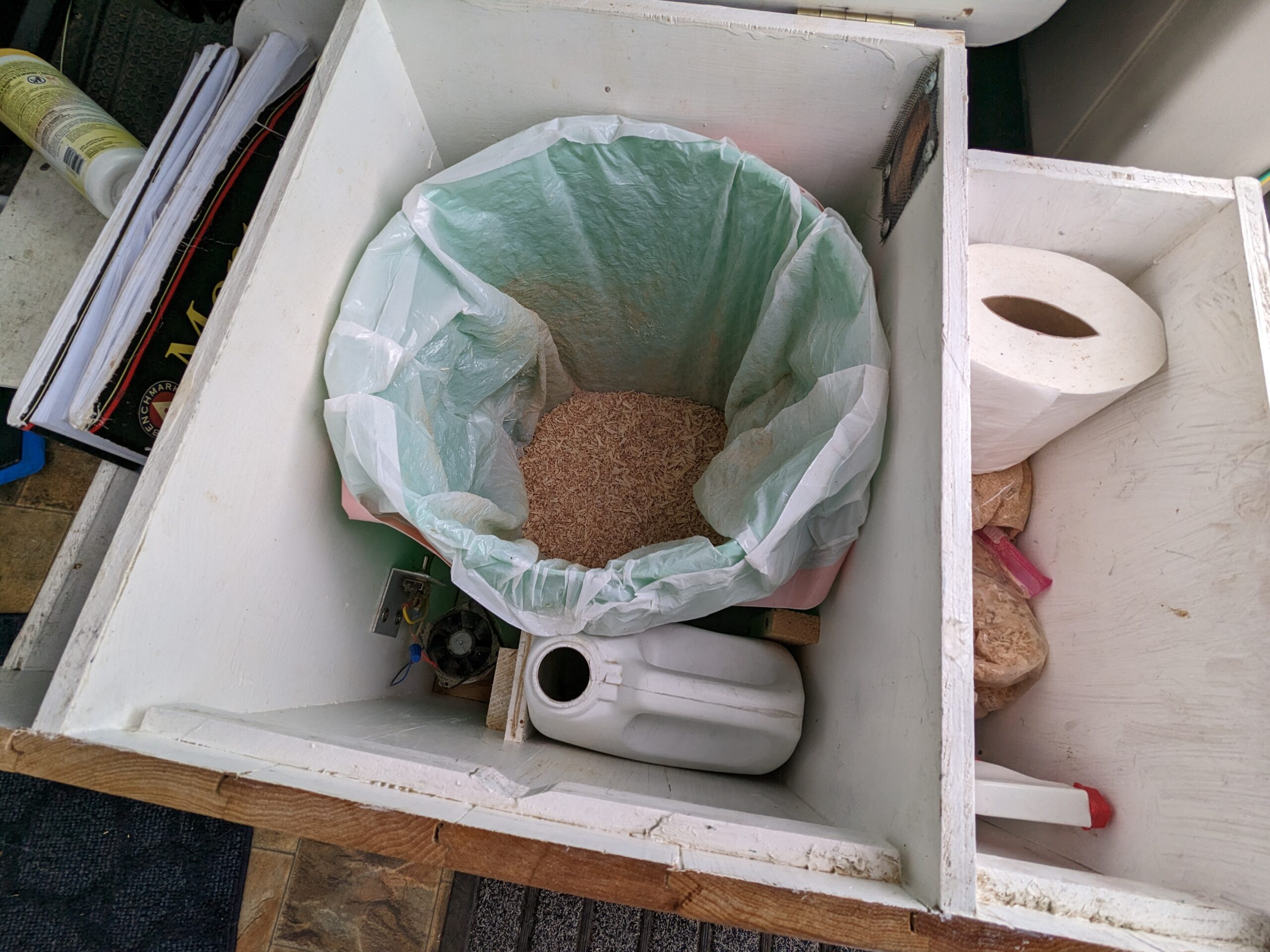 LOTS of detail on how to build and use this composting toilet…
Based on two trips, the toilet has operated just fine with no problems and absolutely no odor.  I can't say that the composting of poo function has been thoroughly tested (see below), but to the extent that it has been used its worked fine.
These are some of the references that convinced me to give this a try:
These are from people who are actually successfully using small composting toilets in RV's or very small cabins and have been doing it for a long time. There is lots of good practical information on building and using small composting toilets in these references.
The Gone With The Wynns site has a large section on there experiences living full time in an RV with a Nature's Head commercial composting toilet.  Everything from how to choose and install it to lots of hints for living with it on a full time basis.
Here is another video from FitRV going over their year and a half with their composting toilet in a class B RV.  They are less thrilled with the composting toilet than the other reviews, but (for reasons they explain) they are probably the less suited to a composting toilet than most.  In spite of some "challenges", they have decided to keep the composting toilet, as, on balance, it works better for them than a conventional toilet and black water tank.  Its a very humorous and entertaining video.
The reviews of the Natures Head toilet at Amazon pass on some experiences and advice for living with the composting toilet.  And, a brochure with dimensions, and installation instructions.
Sun-Maro and C-Head also make some models that may be suited to RV use.
Kildwick provides finished composting toilets as well as some key parts to allow you to make your own composting toilet.
Nice writeup on the Airhead Composting toilet.
An observation after a couple trips in the new van is that for the kind of traveling we have been doing lately, the poo function on the toilet does not get used much.  The reason being that there are usually some form of public toilet available at the camp spots we use — even if they are not very developed forest service campgrounds.  It actually got to the point where I had to make a point of using the composting toilet just to assess how well it was working.  If you plan to go out to completely undeveloped areas for extended periods, then you will need a composting (or other) toilet with significant capacity, but for a lot of people, a very limited to zero poo capability with more urine capability might be fine.
One fundamental difference between the composting toilet and the others listed below is that the others collect all your pee and poo and add to that flush water plus some chemical for odor control — makes for a lot of "stuff" to get rid of in a pretty short time.  The composting toilet uses no flush water at all, converts the poo into a smaller volume composted product, and separates out the urine (which can be easily and safely disposed of every day or two).  So, a low volume toilet can last a long time (very likely the whole trip) without the need to be emptied.
Porta Potty
The Porta Potty is a simple, fairly inexpensive and functional toilet system.  It consists of a toilet seat and bowl with a built in tank just below.  So, you open the bottom of bowl valve, do  your thing, give it a flush from the built in water tank, and close the valve.  There is some chemical (hopefully environmentally friendly chemical) in the tank to control odor etc.
When the tank starts getting full, it is detached from the toilet and emptied into a regular toilet.
Thetford, Camco, Dometic  and others make a variety of models with different capacities and features.  Prices are in the about $100 area.  Makes a nice, simple, inexpensive, and compact toilet solution for a camper van.
Cassette Toilet
The cassette toilet is a self contained unit that has some similarities to the porta potty.  The major difference is that the toilet is fixed in place in the RV, and the waste tank (cassette) is removed via a door on the outside of the RV.  So, when the waste tank is full,  you open the outside door and unlatch and pull the waste cassette through the door and take it to a toilet or dump to empty it.
In some models, the flush water is supplied from the RV's fresh water tank, while other models have a built in flush tank.
Thetford and Dometic (maybe others?) offer cassette toilets.  Cost is in the $700 area.
Some pictures of a Dometic model:
Traditional RV Toilet
This type of toilet has been used in RVs for a long time.  It consists of a traditional looking toilet with a tank (the black water tank) that the collects whatever goes down the toilet.
The toilet to black water tank plumbing must be short and direct (often the toilet is immediately over the black water tank).  The black water tank is normally treated with some kind of concoction that reduces odor and promotes digestion of the toilet paper and solids.
After a few days of use, the black water tank is emptied at an RV dump station or at a full hookup campground/RV park.  Typically the grey and black water tanks are plumbed to a common point at the side of the RV.  When you want to dump, a 3 inch diameter flexible hose is connected to the RV outlet fitting with the other end going into the RV dumps drain.  Valves on the black tank and then the grey tank are opened to drain the tanks.
This link has the particulars on how to live with a black water tank based system successfully…
There are all sorts of ins and outs associated with keeping your black tank system serviceable.  A video showing how to take care of a black tank based system…
I'm probably prejudiced on this, but after having lived with two RVs with this arrangement, it is my least favorite toilet arrangement.  Its messy, limits your toilet placement,  has some environmental problems, and you have to find an RV dump site or full hookup campground/RV park from time to time, and possibly wait in line to use it. But, it's a very common arrangement and a lot of people prefer it.
The Luggable Loo
So, this is the simplest and cheapest ($20) approach of all, and may be just fine for some circumstances — it gets 4.5 star ratings on Amazon.
It is simply a 5 gallon plastic bucket with snap on, hinged seat and cover.
The lid is said to fit tight enough to prevent spills if its accidentally knocked over.  Reliance (the maker) offers a bag that fits the loo to make disposal easier.
It might be quite a good solution for people who very seldom use the poo function of thier RV toilet — that is, they normally use public toilets for the poo function.  So, this device provides a sort of emergency only toilet.
Pee Bottle
A lot of people find that just having a pee bottle that is emptied once a day or so is fine.
If you search on Amazon for something like "RV pee bottle", quite a few solutions for either sex come up.
Here is a video that provides more info than you ever wanted to know on the options for using a pee jug in a van…
Gary
August 10, 2015
Updated 3/25/2019
Comments, Questions, Suggestions, Ideas?