This section covers our somewhat rough cut at a set of window curtains for our RAM ProMaster based camper van conversion.
For the cab area, we chose a commercial solution that uses insulating reflective panels cut to the shape of the windshield and the driver and passenger side windows. They are held in place with with suction cups. They go up and down quickly, and don't take up much stowage room.
For the rest of the windows in the back of the van, we just cut out pieces of Reflectex insulation sheet for each window, and secured it in place with sticky back Velcro. The Reflectix shades in back are intended to be a temporary solution until we can make or have made some fabric shades. But, simple as these Reflectex shades are, they provide privacy and also some useful insulation for cold nights or hot days.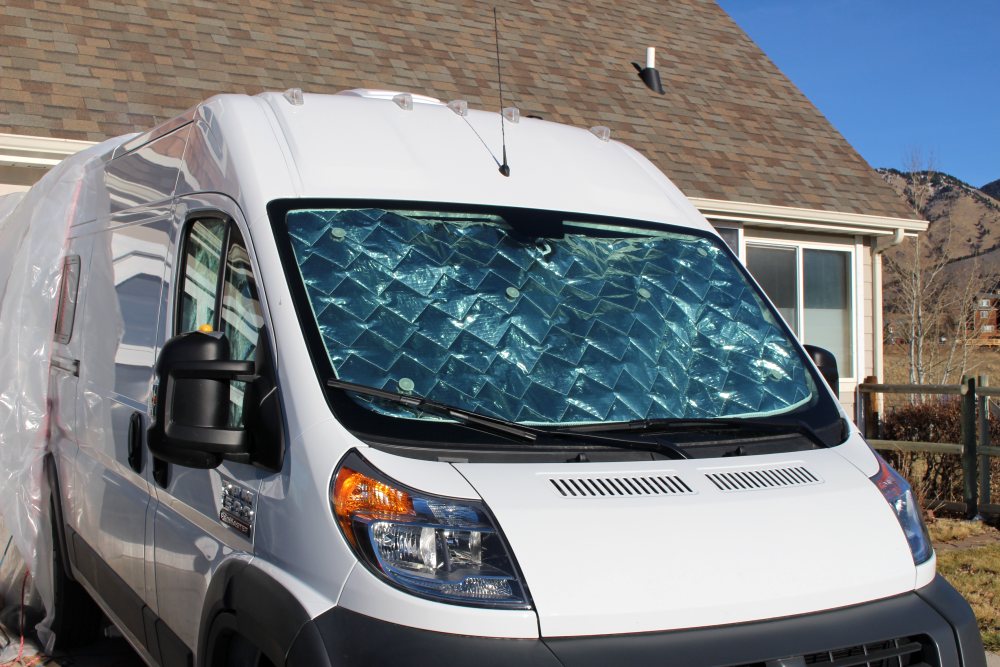 The Eurcamper shades installed in the ProMaster windshield.
Go back to the main camper van conversion page…
Cab Area Shades
For the cab area we used this commercial product from Eurocampers.com.
The panels are made from an "advanced 7 layer insulating material" that has a reflective finish facing out and a grey color facing in. They are held in place with with a few suction cubs per panel.
We rather like this product. The material appears to be durable and looks like it will last. The panels are cut accurately and are bound around all the edges. The suction cups (which seemed a little Mickey Mouse) actually work well — they are fast to put in place and fast to remove, and they will hold for many days. At $80, they are not cheap, but for us, they seem worth the money.
While we have had very little actual experience with them, it seems like they will provide some very useful insulation for cold nights. The single glazed windows provide only about R1 insulation. I think that with the about 1/4 inch thickness of insulating material and reflective layer, that the shades probably add something like R3 and cut the heat loss through the cab windows by about 75%. They should also be effective in reducing heat gain on hot days — especially with the reflective layer (although a reflective layer outside the window would be more effective).
The shades roll up and store in the cubby above the driver/passenger seats and only use a small part of the cubby space.
A few pictures of the Eurocamper shades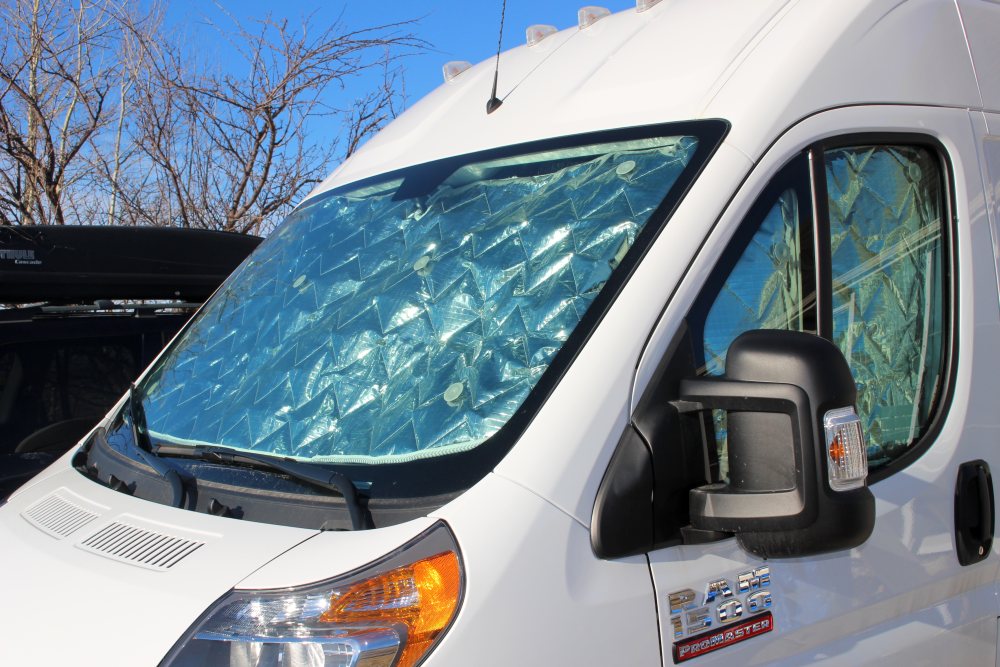 Shades in place viewed from outside.
Not much more than a minute to place all three panels.
Back Area Curtains
In the back of our van, we have the two factory windows in the back doors plus three windows that we installed on the sides of the van.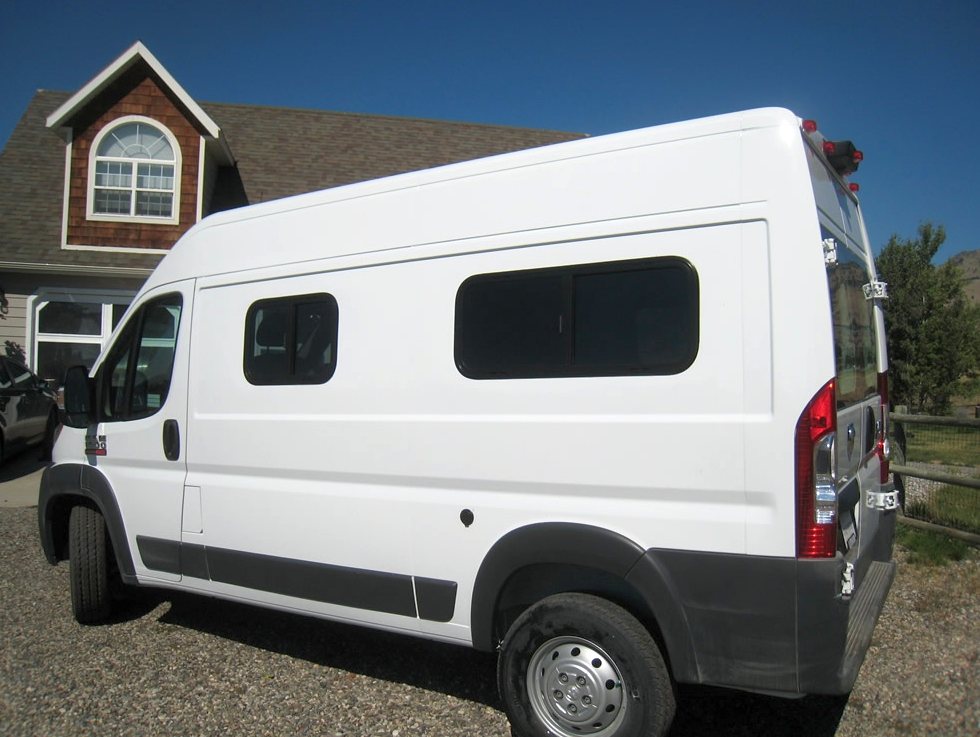 For now, we decided to just use simple panels made from Reflectix that are cut to the size of each window and are held in place with Velcro tabs. In the future we will probably add fabric curtains on tracks, but we wanted to live with the van a bit before making a final decision on the curtains.
The Reflectex panels are fast and simple and they do provide privacy and insulation. We will probably retain them after adding regular fabric curtains just to provide some added insulation on cold nights or hot days, and they take up very little storage space when rolled up.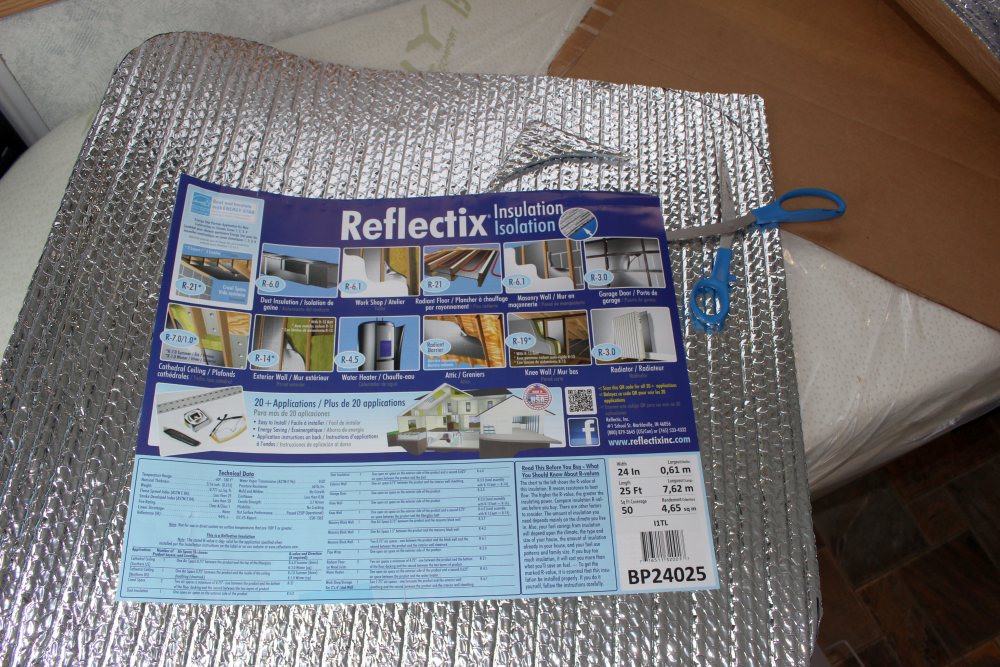 This is the Reflectix — its basically like bubble wrap with face sheets on both sides that are reflectorized. I bought a roll at Lowes that was 2 ft wide by 25 ft long, and used about 10 ft for the shades.
The reflective face sheets provide some additional effective R value as long as they face an air space.
All of the windows are simple rectangles with rounded corners. I just measured the window and cut out rectangles of the Refectix to fit them.. The pieces were cut just large enough to fit in the window frame recess with a bit of a friction fit — that is, the shades will stay in place even without the Velcro tabs.
I used a few small Velcro spots to hold the shades in place.
This was all fast and easy.
Performance
I did a rough heat loss test on the two types of shades I used.
Bottom line is that the shades cut heat loss out the windows by a factor or 3 to 4. From about 30 BTU/sqft-F down to 7 to 10 BTU/sqft-F.
Full heat loss test info here…
Cost, Weight and Time
The cab area shades are a commercial product and come ready to use, so, no labor.
Cutting out the Reflectex shades for the side and back door windows and putting in the Velcro tabs took less than two hours.
| Item | Cost ($) | Weight (lb) |
| --- | --- | --- |
| Commercial panels for cab area | $80 | 4 lb? |
| Roll of Reflectex (2′ by 25′ roll with most left over) | $24 | 2 lb? |
| Velcro tabs | $5 | 0 lb |
| | | |
| | | |
| Total | $109 | 6 lb? |
Go back to the main camper van conversion page…
Gary
January 5, 2015, June 20 2015
Questions? Comments?