This section covers insulating your camper van conversion.  It is aimed mostly at conversions of cargo vans like the RAM Promaster, Ford Transit, or Mercedes Sprinter, but if you are converting another type of vehicle or a trailer, most of the material will probably apply.
Surprisingly, there is no area of camper conversions that is more controversial than insulation.  Many schemes have been proposed and used, and they differ greatly from each other, and there is little solid in service test data to say which work and which don't.  I'm going to give my 2 cents on what's important and give a description of two methods that I like, but you probably want to look around and see all the other schemes.
Insulation — What's Important?
The things that you typically want out of the insulation you install:
Good thermal insulator (high R value)
Able to control water vapor to prevent condensation on the van metal – i.e. don't harm the van.
Does not absorb water.
Able to hold up to the relatively high temperatures and vibration over the long term.
Not squeaky.
Not toxic.
Easy to remove.
Good Insulator: The value of high R value per inch is obvious as there is limited space to install the insulation, but any value from about R3 per inch up is probably workable.  If you are going to use the van under really cold conditions, then you want pick one of the insulating materials with high R value per inch — e.g. polyiso sheets or polyurethane spray foam.
Condensation: The control of water vapor and condensation seems important to me.  There are sources of water vapor in the van (like cooking and people), and when the outside temperature is cold or even cool, water vapor that makes its way out to the van skin will condense, and this may cause rust or corrosion problems over the years.
While there may be other ways to do it, it seems to me that the most straight forward way to greatly reduce condensation is to use an insulating material that is impervious to water vapor and to cover as close to 100% of the van wall/ceiling surface as possible with it.  The idea being that water vapor that cannot get to the van skin cannot condense on it.  In addition if the insulation has a sufficiently high R value that the temperature of the inside surface of the insulation remains above the dew point, then you won't get condensation on the inside surface of the insulation either.
Water Absorption: You do not want insulating materials that absorb and hold water — e.g. no cotton batting or denim.
Vibration and Temperature: The van is a fairly hostile environment for insulation it that there is a lot of vibration, twisting motions, and high temperatures.   For example, I would not use Styrofoam  (polystyrene) near the van skin in that it is only good up to 165F.
Squeaking: Some of the insulating materials are subject to squeaking as the van deforms as you drive it.  For example, if rigid foam board is not well adhered to the van skin it can squeak.
Non-Toxic: On the "Not Toxic" front, you want a material that is safe to install and safe to live with over the years bearing in mind that it will be subject to fairly high temperatures and road vibrations.  Be careful about materials that might out gas at the fairly high temperatures that the van skin will get to.  Fiberglass sheds fibers that are likely not good for you — it will do this during the install, but also during the life of the van as you drive it and shake things up.
Easy Removal: The "Easy to Remove" is a nice feature, but most of the better insulating schemes are going to violate this one.  They are more like removable, but with some difficulty.
Vapor Barriers:
Vapor barriers are discussed a lot in conjunction with insulating vans.  The van sheet metal itself is a vapor barrier that you have on the outside of the insulation whether you want it or not.  I suppose the main question is should  you add a vapor barrier on the inside of the insulation?  The argument for doing this is that it prevents water vapor generated from cooking etc inside the van from getting into the wall and condensing.  I think this makes sense IF the inside vapor barrier can really prevent water vapor from getting into the wall and if there are no rain leaks into the wall cavity.  But, on the negative side, if water vapor does get into the wall and condenses, the inside vapor barrier prevents the water from drying out quickly because its trapped between two vapor barriers.  The references on home building say that it takes a surprisingly small flaw in the vapor barrier to allow significant water vapor to get through — this makes me think that its going to be very hard to do an inside vapor barrier that is tight enough to keep water vapor from getting into the wall.  My 2 cents would be not to use the inside vapor barrier so that moisture that gets into the wall has a way to dry out — but, I'm sure, some  would disagree.
Drain Path:
The vans provide drain holes at the bottom of the walls that allow any liquid moisture that drains down the wall to drain out of the van.  I think that it makes sense whatever insulating method you use to keep these drain paths open.
Inspection:
I think it makes sense to provide for removal of at least some of the wall/ceiling panels so that a year or ten down the line you can remove the panel and see what's going on inside the wall and at the van skin.
How Much Insulation Do You Need?
The main reasons for adding insulation include: 1) reduce heat loss in the winter to allow a smaller heater or furnace and less heating fuel usage, and 2) reduce heat gain in the summer so that the van is easier to cool.
If you want to get into the details of how much heat loss reduction you get for a given amount of insulation, try our calculator you can download here…   It allows you to put in various levels of insulation on the floors, walls, ceiling, and also for the windows.  It gives an estimate of heat loss you will get for a given combination of insulation and for a given outside temperature.  It can be helpful in estimating what size furnace you need and how much fuel its likely to use.
It also provides a chart that shows how much heat is lost through each component (roof, walls, windows, …) so you can see which areas need more attention.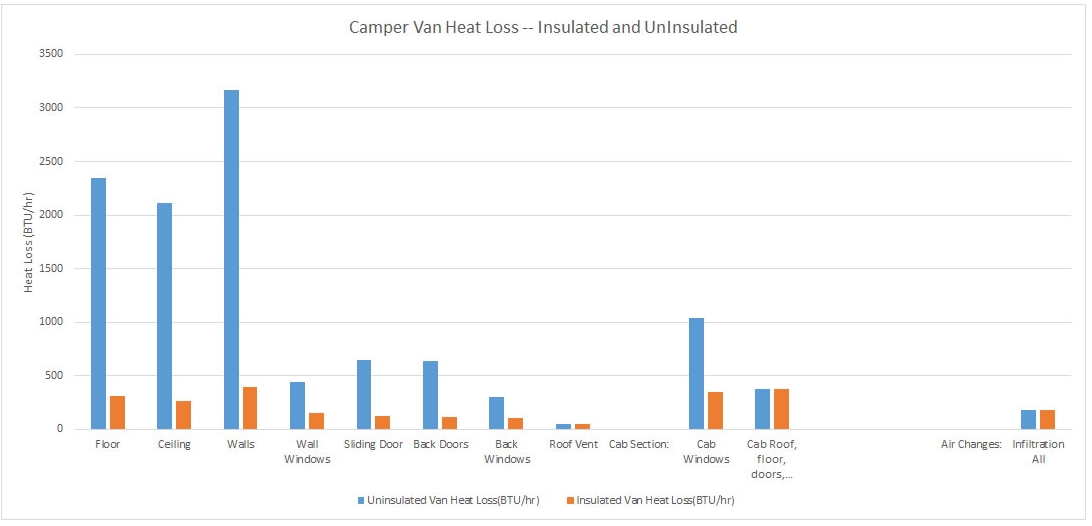 Using this calculator for my van, with 1 inch polyurethane foam insulation all around and Reflectex style window treatments, the calculator estimates that heat loss is reduced by 79% compared to a bare van, and propane consumption for a 32F outside temperature is reduced from 0.18 gallons per hour down to 0.04 gallons per hour.
If you don't want to use the calculator, as a very rough rule of thumb, you probably won't end up going too far wrong if you aim for an insulation level around R6 for the walls, roof, and floor.
Insulating Materials
The table below lists the properties of the common insulating materials used in van conversions.  There is a lot to be learned by just looking through this table.
Name
Type
R per Inch
Thickness
for R6
Cost/sqft
for R6(10)
Max Temperature

Vapor
Barrier?
Absorbs
Water?
polyisocyanurate (1)
Rigid sheet
6.5
0.92 inch
$0.60
270 F
Yes
No
Spray closed cell
Polyurethane (2)
Spray in place
6.5
0.92 inch
$1.80 (11)
270 F
Yes
No
XPS polystyrene (3)
Rigid sheet
5
1.2 inch
$0.80
165 F
Yes
No
EPS polystyrene (4)
Rigid sheet
3.85
1.6 inch
$0.55
165 F
Yes
No
Thinsulate (5)
Polyester and olefin
Flexible sheet
3.3 (12)
1.8 inch
$2.13
200F(?)
No
No
EZcool (6)
Thin flexible sheet
?
?
?
200 F?
Yes
No
Aerogel (7)
Flexible sheet is common
8.3?
0.72
$11.50
390 F
No
No
Notes:
(1) Polyisocyanurate: rigid polyurethane insulation, comes in various thicknesses from 0.5 to 2 inch — example…
(2) Spray polyurethane: two bottle DIY kits available, or pro install.  Spray to desired thickness.  — example…
(3) XPS polystyrene: extruded polystyrene sheets, typically pink or blue, various thicknesses — example…
(4) EPS polystyrene: expanded polystyrene, typically white, various thicknesses — example…
(5) Thinsulate: Polester and olefin fibers with scrim, various thicknesses up to 1 inch ish?  — example …
(6) EZcool: 3/16ths thick closed cell polyethylene foam with thin aluminum face sheets on each side — example…, and…
(7) Aerogel: A very low density porous matrix left over after drying out from a gel — example…, and …
(10) Cost — this is the cost per square foot for the exact thickness needed to achieve R6 insulating value.  For example, XPS foam sheet costs $21.47 for a 4 by 8 sheet 1 inch thick with an R value of 5.  So, Cost = [$21.47) /(32 sqft)]*[R6/R5] = $0.80 $/sqft for R6.  The thickness of this (mythical) R6 sheet would be (R6/R5)(1 inch)= 1.2 inches.
(11) The $1.80 per sqft assumes that you actually get the coverage and thickness shown on the packaging.  Most people (including me) have found that even with great care to follow the instructions the coverage/thickness comes up short — maybe 20% short in my case.
(12) R value for Thinsulate is based on this page — 0.8 inch Thinsulate is listed as R2.64, so R per inch would be (2.64)(1.0/0.8) = 3.3 per inch.  If you have a better source, please let me know.  The 3M SM600L that is used in a lot van insulation projects is said to have an R value of 5.2 and is 1.75 inches thick, so R value per inch would be 3.0.
Polyiso sheets and polyurethane spray foam seem well suited to van conversion insulation, especially if the vapor barrier property is desired.  They have a high R per inch, hold up to high temperatures, don't absorb water, act as a vapor barrier.  The big difference between these two is the cost and the application technique — the thermal performance is about the same.  See below for details on how to install.
XPS polystyrene has many of the same properties as polyiso sheet, but is limited to 165F, which seems a bit low to me for a van in a hot climate right next to the outer skin.  EPS is similar, but lower R value, less mechanical strength and somewhat lower cost.
Thinsulate has a relatively high R value per inch, comes in sheets that are flexible and easy to glue in place.  It is not a vapor barrier, but does not absorb or hold water.  It is said to have good noise absorbing properties, but I don't know how it compares to (say) spray in foam for noise?
Aerogel is a fascinating material with some very nice properties — it provides a way to get high R values when limited thickness is available, and it holds up to high temperatures.  But, it seems (to me) that for van conversions, where there is typically more than an inch of thickness available, that some of the other insulations are more cost effective.
EZcool is a 3/16ths inch thick closed cell polyethylene foam that is covered on both sides with thin alum face sheets.  Since the 3/16ths inch of foam core would only have an R value around 0.5, most of the value of this product from an insulation point of view has to come from the reflective face sheets reducing radiant heat transfer.  For the reflective face sheets to work on reducing radiant heat transfer, they have to face an airspace — so, you would want to plan your stackup to include an airspace at least on one side of the EZcool.  The reflective surface also has to stay reflective over the years if its going to keep its R value.  If you can install the EZcool with an airspace and it stays clean, then an R value of about 3.7 might be achieved.  It seems to me that a layer of EZcool just inside the van skin with an air layer between the EZcool and the next layer of insulation might be be effective is reducing the radiant heat transfer from the hot van skin inward.
Insulating Schemes
Spray Foam Insulation
Spray polyurethane foam is the method I used on our conversion, so I have the most first hand knowledge of this method.
I picked this method based on its combination of good R value (R6.5 per inch) and the fact that the cured foam is impermeable to water vapor.  That is, water vapor originating on the inside of the van from people or cooking or washing cannot penetrate the spray on insulation to get to the van outer skin where it will condense and potentially cause rust.  If the insulation has enough R value that the temperature of the inside surface of the insulation is above the dew point, there also will not be condensation on the inside surface of the insulation — this reduces the chance of mold.
On the negative side, the spray foam insulation is more expensive than most (about $400 DIY), and there is a chance (particularly if not done carefully) that the van walls will be distorted as the insulation cures.  Also, using the foam can be a bit intimidating if you have never done it  before.
There were places that I could not (or did not want to) spray with the spray foaming from the two large bottles of foam.  I went back afterword and got some of these areas with Great Stuff canned foam, but there are a few areas that I could not get to or areas with lots of wire runs I did not want to spray.  So, this method does not protect 100% of the van skin from condensation.
You may find that there is a commercial spray foam outfit in your area that can spray the van at a reasonable price, but I would make sure that they have had experience in spraying vans successfully and are well aware of how to avoid any distortion of the van walls.
If you decide to do it yourself, this job really puts a premium on doing your homework ahead of time, very good masking of areas you don't want sprayed, and getting all your ducks in line before you start the spray job as stopping in mid spray is awkward.
There is a very detailed description of how I did the foaming on my van here…
I'm quite satisfied with the results of the spray foaming on my van.  The insulation is very well adhered to itself and to the van walls, it insulates well, and there was no problem at all with distortion of the body panels.  All that said, if I were doing the job over again, I'd seriously consider the Rigid Foam Panel method described just below.  I've not had any direct experience with this method, but it looks like it has the same advantages as the spray foam method at a somewhat lower cost and the work required is probably of the same order.
Rigid Foam Panel Insulation
The rigid foam board method that I like uses rigid foam board sheets that are adhered to the walls and ceiling with polyurethane foam in a can (Great Stuff).  The sheets of foam board can be cut to cover the larger areas, and then the Great Stuff glues the boards to the wall and is also used to foam the areas around the edges of the foam boards and in the places where there are no foam boards.  The foam boards should be foamed carefully around the edges so that water vapor cannot get under the edges and condense on the van walls.
I think its best to use polyisocyanurate foam board insulation.  The polyisocyanurate (polyiso for short) insulation board typically has aluminum foil face sheets on each side.  The foam itself is usually tan in color.  The sheets will say "polyisocyanurate" somewhere on the sheet.  A lot of lumber yards carry the polyiso, but they often don't know it by that name, so ask to see what they do have and look for the polyisocyanurate label.  The good things about polyiso insulation are: 1) it holds up to high temperatures (270F or so), 2) it has a high R value (R6.5 per inch), and 3) it is water vapor impermeable.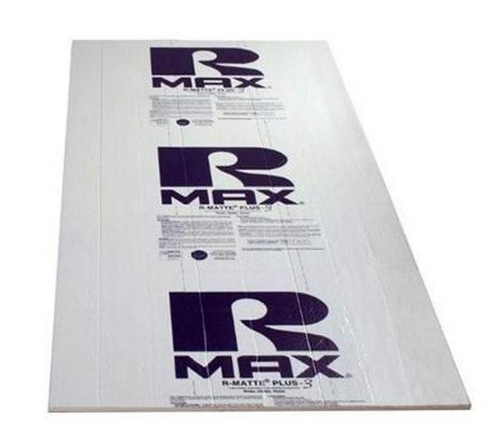 This is the brand Home Depot carries in some stores.
Here is a very detailed rundown on installing Polyiso rigid foam board on a Ford Transit…  
I think that its important to use Polyisocyanurate rigid foam board and not any of the polystyrene based rigid foam boards (eg the EPS and XPS).   The reason being that the polyiso insulation is good for higher temperatures.
The 1 inch thick polyiso might be the best choice.  It is flexible enough that it can be bent to the curve of the walls and it provides about R6.5.   If you need more than R6.5, then two layers of 3/4 or 1 inch is probably the way to go rather than trying to bend or score 2 inch polyiso.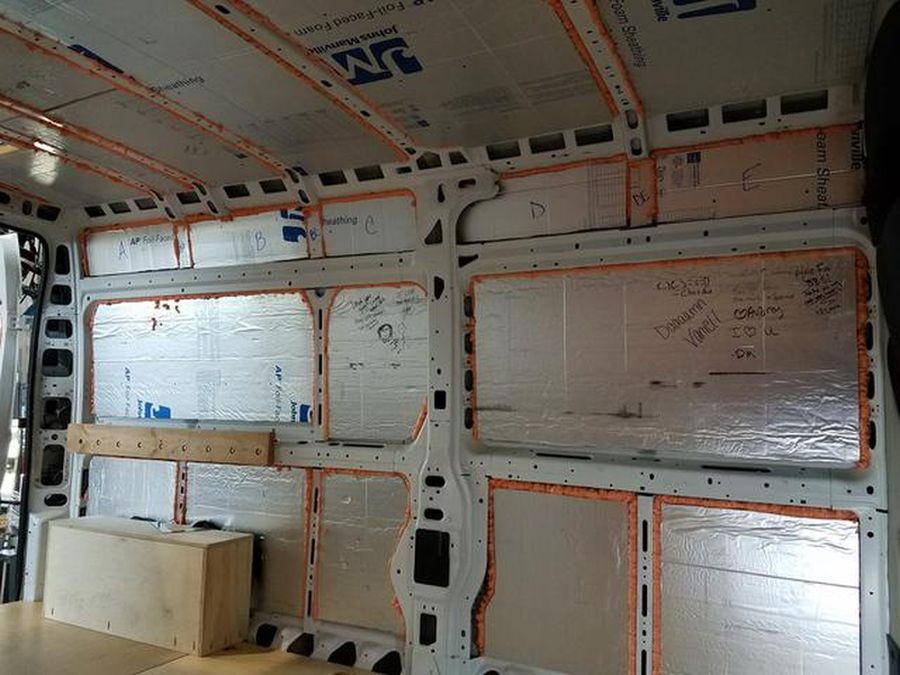 More pictures above from the RD Build on the ProMaster forum.  The more I see this method, the more I like it.  Another polyiso isulation project from the Promaster Forum.
Also from the ProMaster Forum, here is an example of what I would call a good pattern of GreatStuff on the back of a Polyiso panel.  I think that this pattern would insure that you will never get any moisture behind the Polyiso.
If you use the Great Stuff foam to adhere the polyiso to the walls, you will want to have props that you can wedge in to keep the foam board in contact with the wall while the Great Stuff is curing.  Once the Great Stuff has cured the the foam board will be VERY well stuck to the wall.  You may want to invest in the "Pro" version of the Great Stuff foam applicator — its much nicer to work with than the Great Stuff cans with the plastic straw applicator.
I want to be clear that I've not used this polyiso rigid foam board to insulate a van myself — I've just reviewed what others have written about it and passed it on here.
If you have used this method to insulate your van and can provide some pictures and description that would be great Contact Gary..
Thinsulate
Thinsulate is an insulating material developed by 3M that was initially developed for use in clothing.  It is composed of very small fibers of polyester and olefin. It normally has a scrim layer on one or both sides to protect the fibers.  These fibers do not absorb water, so any water that gets in the wall will not be absorbed by the insulation.  But, Thinsulate is not a vapor barrier — that is, it allows water vapor to pass through it.  It comes in various thicknesses and weights.  It is flexible and can readily be bonded to the walls with something like 3M 90 spray adhesive.
As near as I can tell from the Rockywoods.com data on Thinsulate and the 3M datasheet, it has an R value of about R3.0 to R3.3 per inch.
It was found by the auto manufacturers that Thinsulate has both good insulation and good acoustic properties, and special versions of it are now made for this purpose — e.g. SM600L and here…
Hein on the Sprinter Forum has used Thinsulate in combination with EZ-Cool and Reflectex to insulate his van.  EZcool is a thin layer (3/16 inch) of closed cell polyethyene foam with a layer of aluminum on each side.  In Hein's method the EZcool goes in first near the van wall, but not glued to it, then the Thinsulate goes in as the next layer, and then a layer of Reflectex is installed as the inside layer.  This post on the Sprinter forum has some details on the installation.  Hein also offers a good price on Thinsulate that is well suited to vans — about $1.78 per sqft for 1.5 inch, 600 gm/sm material.
A lot of people seem to be enthused about Thinsulate and this 3 layer method.  I'm probably just being obtuse, but its not clear to me why this three layer arrangement is better than a single thick layer of polyiso or polyurethane foam, or how it controls water vapor?  I'd be happy to be wrong in my skepticism, so please put a comment in below on why this is a good way to go.  I guess that one advantage would be that the EZcool installed at the van skin can act as a radiant barrier to reduce radiant heat transfer into the van — as long as there is a air gap between the EZcool and the Thinsulate.  This could be helpful especially for dark colored vans in hot climates.
Other Insulation Schemes
A lot of other schemes for insulating van have been used and proposed.  I'm not going to say much about them as, I really don't have any way to know if they are good or bad.
Fiberglass:
Batt style fiberglass is used quite a bit for conversion van insulation (even by commercial converters).  On the plus side, it's very available and cheap, and fairly easy to install, and its also easy to remove.  On the negative side, it readily allows water vapor to pass through it and this promotes condensation on the cold van walls and potentially leads to rust and corrosion.  It is also not viewed as a particularly healthy product to install, or to live with long term — all the bouncing around that a camper van does may lead to fibers in the air for a long time.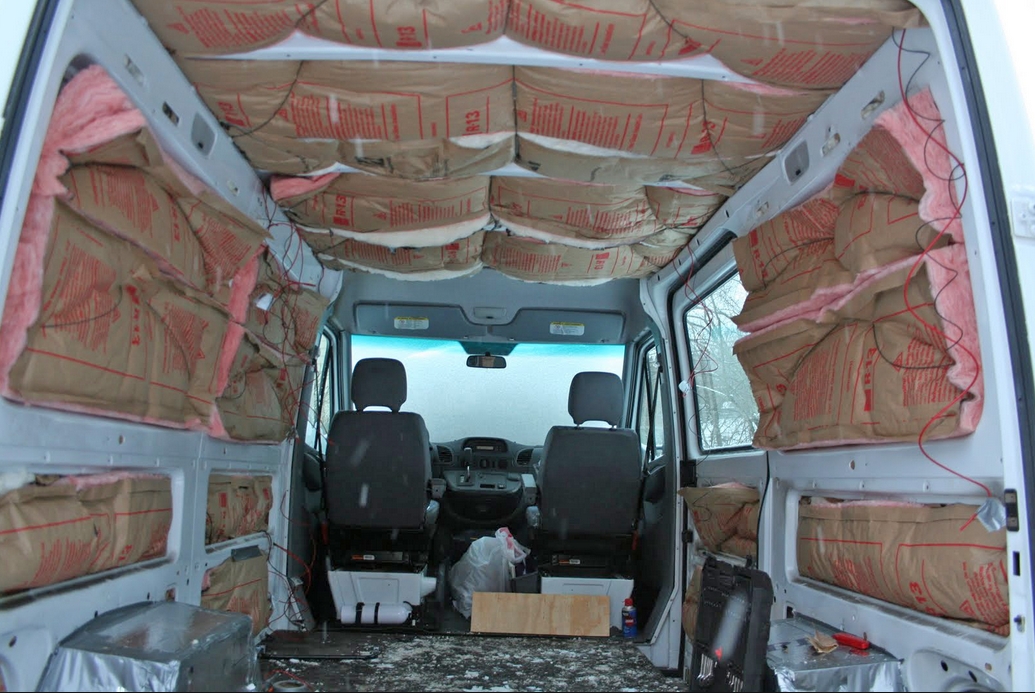 I have also read stories by people updating a conversion done on an older van in which they removed old fiberglass insulation to find quite a bit of rust on the van sidewalls.  I don't think that this is common, but it does happen.
Most people who have looked into insulation for vans reject fiberglass as a choice, and I agree — I'd go with something else.
Polystyrene (Styrofoam):
I would personally avoid using any of the insulation products that use Polystyrene as the insulating material — this includes the Styrofoam, EPS expanded polystyrene (the coffee cup stuff), and XPS extruded polystyrene foam (the pink and blue stuff at the hardware).  The reason is that the maximum service temperature for this material is only 165F, and I think that its possible to get to these temperatures for insulation near the van skin. I found out by unintended experiment that its fairly easy to melt polystyrene based insulation…
Multi-Layer Approaches:
I've seen a few descriptions of insulating schemes that use a number of layers of different or similar insulating products on the theory that multiple thin layers achieve a better result and a single thick layer.  I have to admit that I don't see the advantage and it just seems (to me) to add to the work and cost.
If you have a multi-layer scheme that you like and a good line of reasoning for using it, please leave a comment below explaining why you think its better.
Noise Reduction
In addition to lowering heat loss, insulation also provides some noise reduction.  There are again a lot of proposals on how to come up with an optimal combination of layers that do a good job of both insulating and reducing noise.
Update: after a few long trips in the van, if I were doing this all over again, I'd probably put more emphasis on noise reduction.  Its not that the van is all that loud, but a bit quieter would be nice.  I will probably take some time to see what can be on mine at this point — things lie the doors have not been treated and it seems like some of the noise originates from the headliner area.
Figuring Out What Really Works?
Its a bit discouraging that people have been insulating camper vans for decades, and we still don't seem to have the data that would tell people now starting their conversions what methods are proven to really work well, and which have failed.
It would be nice if we could collect data from people who insulated their vans some time back and are in a position to inspect and take a few pictures of how things are going inside the wall and at the van skin.  If you have or are willing to collect such data, please leave a comment or email me so we can arrange to get your story up on the site.  This goes for solutions that worked well as well as ones that failed.
Update
November 2020: I did some testing of three common insulations used in van conversions (Polyiso, Thinsulate and Wool).  The testing is for a side by side comparison of how these insulation handle moisture and condensation buildup.  Have a look!
Gary
July 3, 2015
Questions?  Comments?