Most people will want to add some windows as a part of the camper van conversion to provide ventilation, views, and light in the van.  This page goes over some of the options.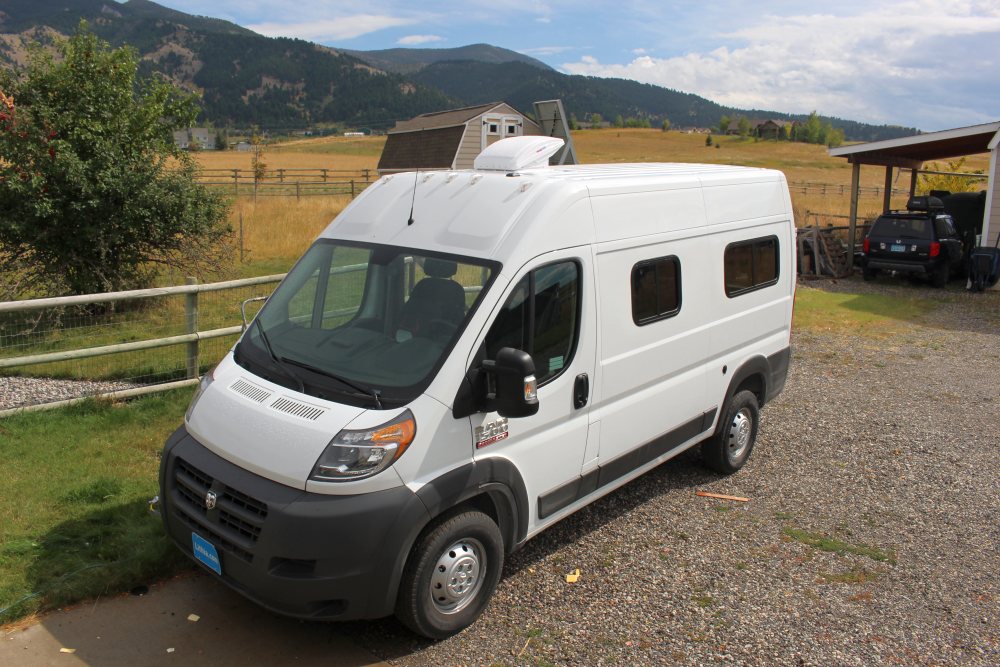 The things you will likely be looking for in van windows
Durable and well made.
Provide for ventilation.
Have screened openings.
Don't leak!
In addition, for some, the windows are a strong style statement.
Frameless Windows
Some of the original equipment van windows do not have a visible metal frame — basically all you see from the outside is glass that is carefully styled to blend well with the lines of the van.  A nice look.  Aftermarket windows with this kind of a look are available for the popular vans (Sprinter, Transit, ProMaster, …), but at a premium price.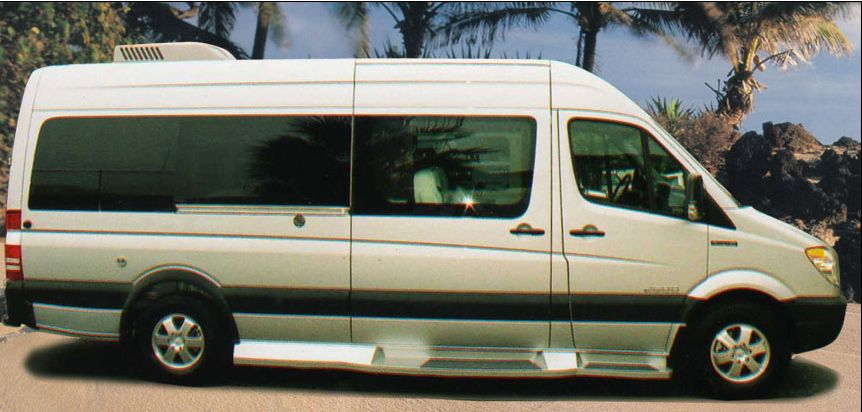 CR Laurence is one supplier of such windows — these windows tend to be up in the $500 per window area.
Using Flat Trailer or RV Windows
On our van (a RAM ProMaster) the curvature of the van side panel is so slight that you can use windows that are not curved to match the van skin.  The advantage of using a flat window is that there is a wide selection available, including ebay bargains.  I do not know how the curvature of the other vans compares to the ProMaster and whether flat windows can be used on other brands.
The windows we picked for our conversion are metal framed flat windows from CR Lawrence.  We used three altogether: one of them forward over the galley area, and one on each side in the back sidewalls over the bed area.  This turns out to be enough window area to give the van a nice light and open feel inside.  I would call this a medium price approach — they are nice looking and decently  made windows at about $170 per window.  There are much less expensive bargains on ebay, but in a couple weeks of looking I was not able to find a set that were the right size and met our ventilation etc. requirements — but, certainly worth a look.
The ebay windows can be an interesting option.  Often the ebay windows are high quality from good manufacturers, but they tend to be odds and ends with limited size and selection.  As always with ebay, be careful.
While putting in your own windows is a job that takes some care and planning, it is within the capabilities of a lot of DIYers.
LOTS more detail on how we did the window install on our conversion here…
Motion Windows
Motion Windows make high quality windows for a variety of purposes, including custom windows for Sprinter and ProMaster vans.  The windows are custom made to your measurements.  Several different quality/feature levels are offered.
They also offer dual pane windows for less heat loss.
CR Laurence Windows
CR Laurence makes a variety of windows.  Some are custom fits for specific vans like Sprinters or ProMasters, while others (like the ones we used) are flat windows intended for RV or trailer use.
Seitz Windows
Seitz is a popular European brand with some unique features.  They are awning type windows in which the whole window hinges at the top and the bottom pushes out — this makes for more vent area and some rain protection.  They are double glazed and come with built in screens and shades.   The glazing is plastic, so scratches can be a problem.
This is an excellent rundown on the pros, cons and features on the Expedition Portal Forum…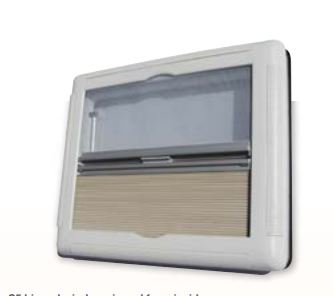 The windows may be hard to find in the US, and may have to be ordered from Europe.  Some US distributors that have been listed in the past no longer appear to handle these windows.  Found a few listed on ebay.  Some Seitz windows listed in Dometic catalog…, but I don't believe that Dometic sells them in the US.
Paul N. found a domestic source for Seitz like windows.  See his comment below in the comments are for more detail.
Tern Awning Windows
These windows from Tern Overland are a new choice that looks promising.
These are awning style windows that open outward (hinged at the top).
They are Acrylic windows, so scratching over time may be an issue.
They are double wall and are R value of 2.5 — about twice as good as single glazed windows.
They come with what looks like a very nice shade that pulls up from the bottom and insect screen that pulls down from the top.  From the videos, these look like they work well and look nice.
An example install on the ProMaster Forum…
Prices do not seem out of line.
Windows Suppliers
Some suppliers of windows:
Motion Windows — good reputation for custom made windows.
DK Hardware  — variety of windows for vans and RVs
ebay — A variety of windows available — sometimes very good deals.
CR Laurence — Maker of custom windows for van conversions
Also, check the online forum for your van for descriptions of installing windows.
Comments, Questions, Suggestions…